Boat Diving Trips
For qualified divers and snorkelers we run two to three boat trips per day from May till early October.
Our passenger licensed rib cruises at 22 - 25 knots which makes the journey time to the majority of our dive sites only 15-25 mins.
We have reefs, wrecks, offshore islands, pinnacles, wall dives and sheltered lagoons.
We regularly see the prolific cetacean activity in Kenmare Bay. Bottlenose dolphins, Common dolphins, Porpoises, Fin whales & Minke whales.
Underwater, the main dive season boasts visibility averaging 10 - 15 meters with water temperature averaging 16 degrees celcius.
Kenmare Bay is a designated special area of conservation and
marine life is abundant here. We have a dry locker on board KBD1 for storage of u/w photography gear.
Non divers & snorkelers are welcome on boat trips.
Prices
Boat dive including tank, air & weights. € 42
Boat dive including full equipment hire. € 64
Refresher / Orientation dive including instructor as your buddy & gear hire. € 94
Boat snorkeler including mask, fins, snorkel, wetsuit and boots. € 39
Boat passenger including solas apprvd lifejacket. € 29
Prices
Boat dive including tank, air & weights. € 42
Boat dive including full equipment hire. € 64
Refresher / Orientation dive including instructor as your buddy & gear hire. € 94
Boat snorkeler including mask, fins, snorkel, wetsuit and boots. € 39
Boat passenger including solas apprvd lifejacket. € 29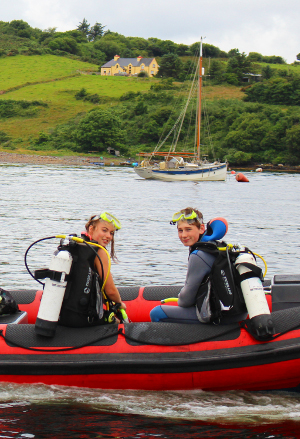 Diver training - Day Trips - Tailer made one to one attention - Commercial diving